Location, location, location: fighting hematological malignancies by trapping T cells in lymphoid tissue
Priothera's small molecule mocravimod is transforming the prospects of patients with hematological malignancies receiving hematopoietic stem cell transplants.
In recent decades, the incidence of some hematologi- cal malignancies (HMs), such as acute lymphocytic leukemia (ALL) and chronic myeloid leukemia (CML), has decreased, while the incidence of others, includ- ing chronic lymphocytic leukemia (CLL) and acute myeloid leukemia (AML), have increased in most countries worldwide. At the same time, the number of allogeneic hematopoietic stem cell transplants (HSCT), an established treatment for HMs following chemotherapy, has also increased significantly.
Yet HMs remain a major cause of cancer deaths, with overall mortality rising in recent decades—a fact that points to the unsatisfactory curative poten- tial of HSCT. Priothera is addressing this clear unmet medical need with the development of mocravimod, a small-molecule immune-modulating adjunctive and maintenance therapy for HMs that is initially being developed for AML with the first study in adult AML patients to be initiated in 2022.
For many intermediate and high-risk AML patients, as well as those with other HMs, chemotherapy fol- lowed by HSCT is the only potentially curative treat- ment option, but one that comes with a significant risk of serious and sometimes fatal graft-versus- host-disease (GvHD). HSCT is also limited in efficacy, due to immune-suppressive comedications that aim at controlling GvHD: 40% of post-HSCT AML patients relapse, with a dismal prognosis of 2-year survival less than 20%.
Mediating graft-versus-host disease
A crucial factor that determines the effectiveness of HSCT in AML is whether the patient develops graft-versus-leukemia, in which transplanted alloge- neic T cells attack and eliminate host leukemic cells (Fig. 1). Notably, the beneficial alloreactive T cells responsible for GvL are the same T cells that medi- ate GvHD. However, despite the fact that GvL and GvHD are driven by the same cells, they manifest in different parts of the body. GvL mainly occurs in lymphoid tissues, such as bone marrow and lymph nodes, where the malignant hematological cells reside. GvHD, by contrast, occurs throughout the body after donor T cells become activated by anti- gen-presenting cells and migrate out of lymphoid tissues to the gastrointestinal tract, liver, lung, and skin, where they attack host cells.
HSCT would be much more effective, and less prone to severe side effects, if alloreactive T cells remained in lymphoid tissues, mediating GvL but unable to attack the rest of the body to elicit GvHD.
This is mocravimod's mode of action, which has been shown in a clinical proof-of-concept study. Mocravimod, a propane-1,3-diol derivative, is a novel, synthetic sphingosine 1-phosphate receptor (S1PR) agonist with a long half-life in the body. Delivered as a prodrug during and after HSCT, mocravimod is phosphorylated in vivo to generate the active moi- ety, mocravimod phosphate, which binds to S1PR, a receptor that plays a crucial role in lymphocyte trafficking from lymphoid tissues to peripheral blood.
By interfering with S1PR signalling, mocravimod sequesters donor T cells in lymphoid tissue, but with- out affecting their cytotoxic, leukaemia-cell-killing power, which facilitates the emergence of disease- eliminating GvL. At the same time, because the allore- active T cells cannot leave lymphoid tissues to attack other tissues within the body, the potential for GvHD is greatly reduced.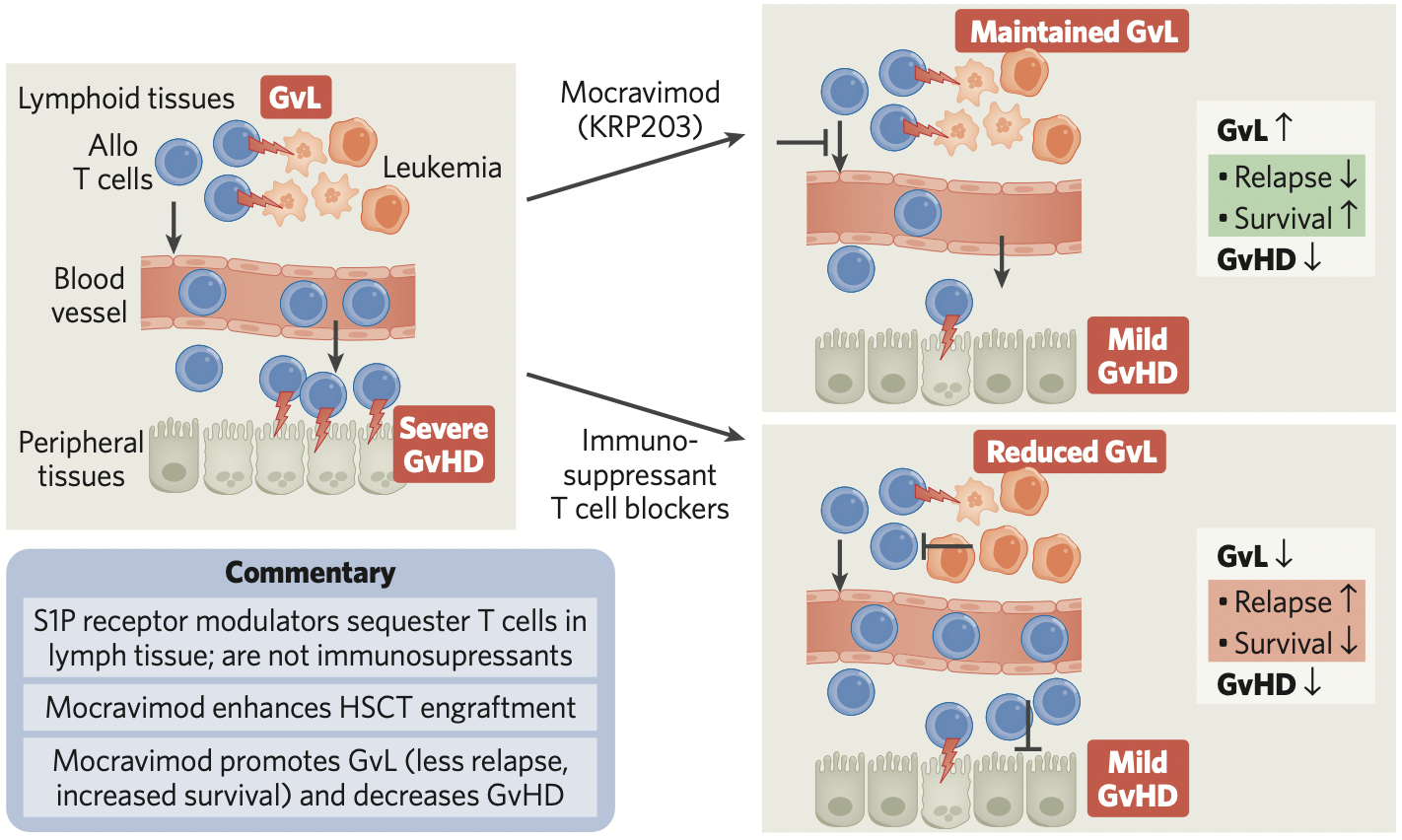 Fig. 1 | How mocravimod promotes GvL and hinders GvHD after HSCT. After hematopoietic stem cell transplant (HSCT), alloreactive T cells mediate beneficial graft-versus-leukemia (GvL) in lymphoid tissues and harmful graft-versus-host disease (GvHD) in peripheral tissue (left of figure). Mocravimod sequesters alloreactive T cells in lymphoid tissue, where they maintain GvL, and simultaneously reduce GvHD (top right). Other immunosuppressant T cell blockers can reduce GvHD, but also reduce GvL (bottom right).
Promising early clinical results
The dual effect has been demonstrated in mouse models of allogeneic HSCT, and mocravimod has been found to be safe and well-tolerated in human safety studies as well as in a study in which
hematologic malignancy patients requiring HSCT received mocravimod on top of standard of care. In these patients GvHD, relapse and mortality were reduced. In an upcoming phase 2b filing-enabling study, adult patients with AML will receive mocravi- mod as an adjunctive and maintenance therapy while undergoing HSCT. The study will assess improvements in relapse-free and overall survival.
Priothera has completed the necessary non-clinical filing package and is currently scaling up and validat- ing manufacturing processes for commercial supply so that the company will be immediately ready for its global commercial launch following approval. Priothera welcomes discussions with potential inves- tors and partners who are excited about ushering a new era of treatment for hematological malignancies.